For a fresh and youthful complexion, we carry out highly professional medical cosmetic skin analyses and treatments
At MFORM Aesthetics, we specialize in highly professional medical-cosmetic treatments using cosmeceuticals. These are skincare products contain special ingredients known for their high efficacy, deep skin penetration, and attributed medical benefits. Cosmeceuticals focus on reducing the signs of skin aging, making them an effective and non-invasive anti-aging solution. These products can stimulate the formation of new skin cells, promote skin regeneration, and enhance overall skin appearance. Combined with modern treatment methods such as LED light therapy, Jetpeel, microcurrent therapy or microneedling, we offer our patients a comprehensive range of medical cosmetic services aimed at achieving a fresh and youthful complexion.
The term "cosmeceuticals" is derived from the words "cosmetics" and "pharmaceuticals." Due to their high-concentration ingredients, cosmeceuticals undergo more rigorous investigation than conventional cosmetics. To ensure safe and promising results, these products must be used under the supervision of a medical professional. This sets Medical Cosmetics apart from offerings in cosmetic spas.
Medical Cosmetics are suitable for various skin issues that extend into deeper skin layers. These include wrinkles, pigmentation spots, acne scars, blemishes, dilated blood vessels, and sun damage to the skin.
In a Medical Cosmetics treatment, we start with a thorough skin analysis and consultation. Based on this, you not only receive a tailored treatment with selected cosmeceuticals in our practice but also, if desired, recommendations for products from the ZO Skin Health product line that are particularly suitable for your skin type. You can obtain products such as cleansers, peels, toners, serums, sunscreen, and evening creams from us on-site and continue your individual skincare routine at home. The effects achieved through in-office treatments are thus maintained in the long term.
1. Consultation and Analysis
New customers receive a special introductory treatment with the Welcome Facial. We conduct a image-based skin analysis in our photo room and, based on that, select the appropriate medical facial treatment for you. After the approximately 25-minute treatment, we discuss and plan the further course of treatment together. Starting from your wishes, treatment goals, and the desired extent of the treatments, an individual treatment plan is developed, and we recommend suitable treatments and products.
As an existing customer, you are then received as part of the treatment plan for recurring consultations and treatments and for check-up appointments in our premises.
The treatment is based on the preceding consultation and analysis. Depending on the treatment goal, multiple sessions may be advisable, as determined in the individual treatment plan. We recommend using the products we selected at home to ensure a long-lasting result. During the application phase, you can attend check-up appointments where we discuss whether the independent use of the products is effective and carried out correctly, address new goals, and, if desired, perform further treatments in the practice.
The Welcome Facial can be booked once and is the perfect introduction for new customers. It includes a detailed consultation with image-based skin analysis and a subsequent medical facial treatment. We discuss your wishes and goals, create an individual treatment plan, and provide recommendations for personalized home care.
Personalized Anti-Aging Treatment
The combination of carefully selected cosmeceuticals and cosmetic expertise creates a powerful anti-aging treatment that aims to minimize fine lines, improve skin firmness, and revitalize skin texture.
LED light therapy is a gentle method for skin rejuvenation, acne treatment, wound healing, and enhancing well-being. Non-thermal light triggers various biostimulating reactions.
In this method, active ingredients are mixed with oxygen and applied to the skin at high speed through a nozzle. The pressure allows the active ingredients to penetrate deep into the skin, providing a "freshness boost" and anti-aging effect.
Microneedling stimulates collagen production and cell regeneration, resulting in smoother, finer-pored skin and an improvement in skin quality and texture. It can also reduce acne scars and can be combined with PRP (Platelet-Rich Plasma).
By using electrical impulses, the body's own electrical activity is mimicked to stimulate and firm facial muscles. This promotes blood circulation, leading to an improvement in skin structure and an anti-aging effect.
The pH of the skin is lowered using acidic solutions, which removes dead skin cells. This process stimulates the formation of new skin cells and promotes skin regeneration. Fine lines, hyperpigmentation, and acne can be treated with this method.
Classic Medical Treatment
The classic medical treatment is tailored specifically to the current needs of your skin. After a thorough analysis, an effective medical treatment is performed. The skin becomes supple, radiant, and optimally moisturized. At the same time, the medical treatment provides deep relaxation.
For our cosmetic treatments, we rely on products from ZO Skin Health, a renowned skincare brand by dermatologist Dr. Zein Obagi, specializing exclusively in medical skincare products. By strategically using these highly effective products during our in-office applications, we can achieve particularly sustainable results.
To ensure that these results are maintained for as long as possible and that skin health is continuously ensured, proper home care is crucial. Therefore, we are happy to recommend suitable products for your individual skin type. The combination of professional and intensive in-office treatments and the regular, responsible use of the high-quality ZO Skin Health products leads to radiant skin and lasting skin health.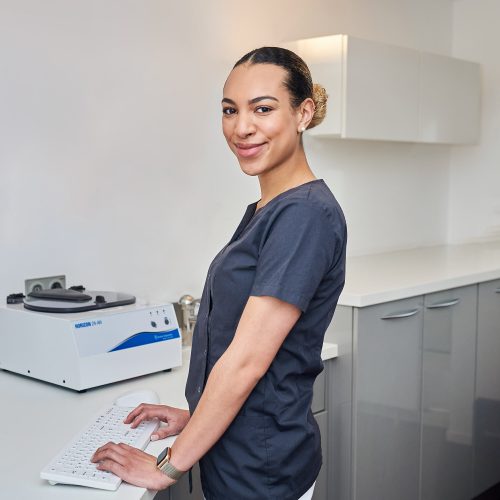 Medical assistant, medical facial beautician and facial beautician
Location of the treatment
CURRENT CONTRIBUTIONS FROM MFORM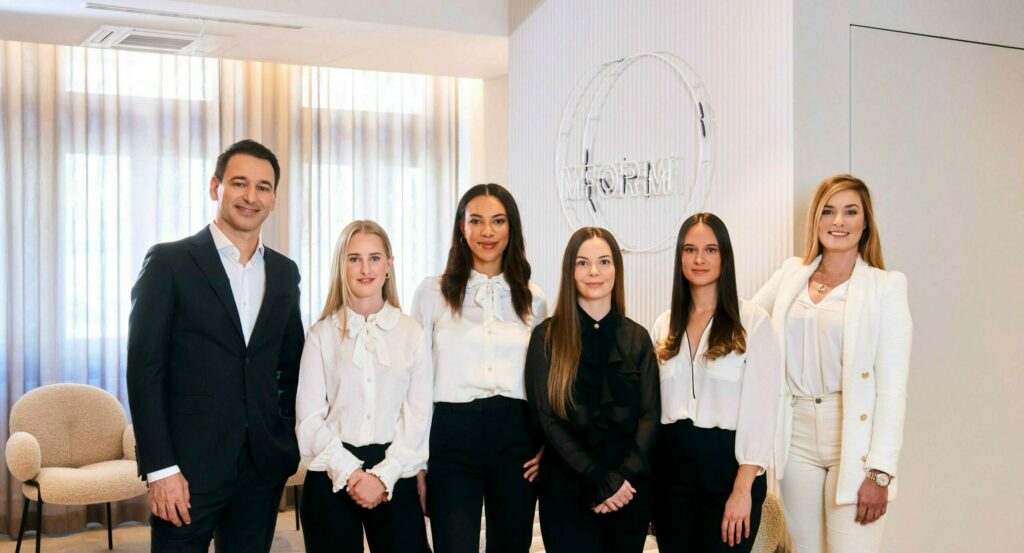 The grand opening of MFORM Aesthetics is just around the corner: starting October 24th, patients can book appointments in our new practice premises in the heart of Munich.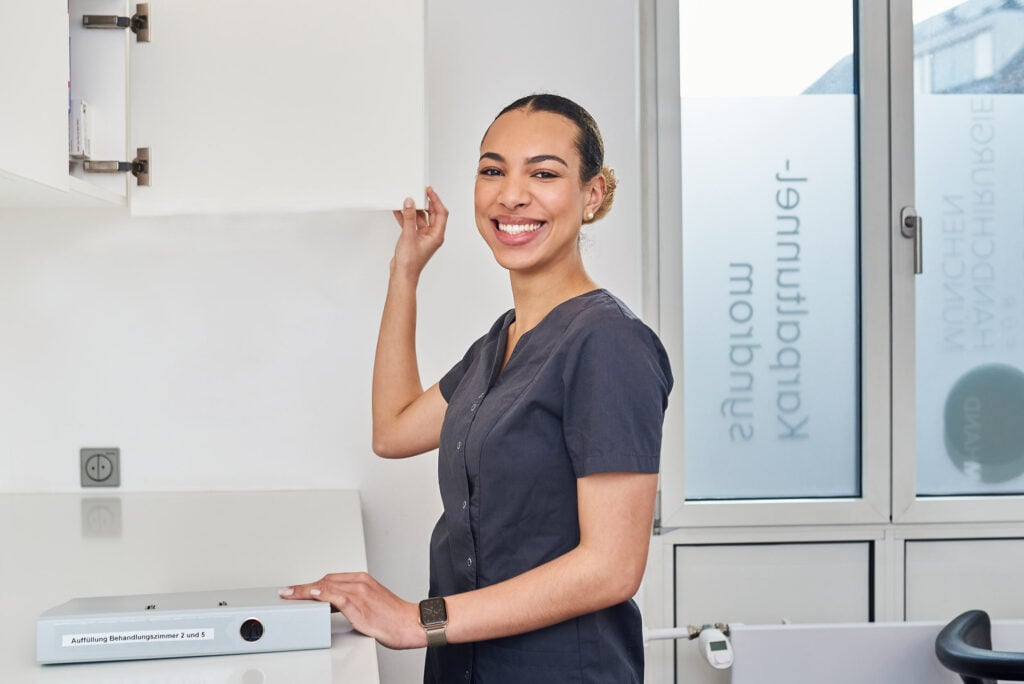 Our medical assistant, Ophelia Banatte-Schuster, has successfully completed her 6-month, part-time training to become a certified medical facial cosmetologist.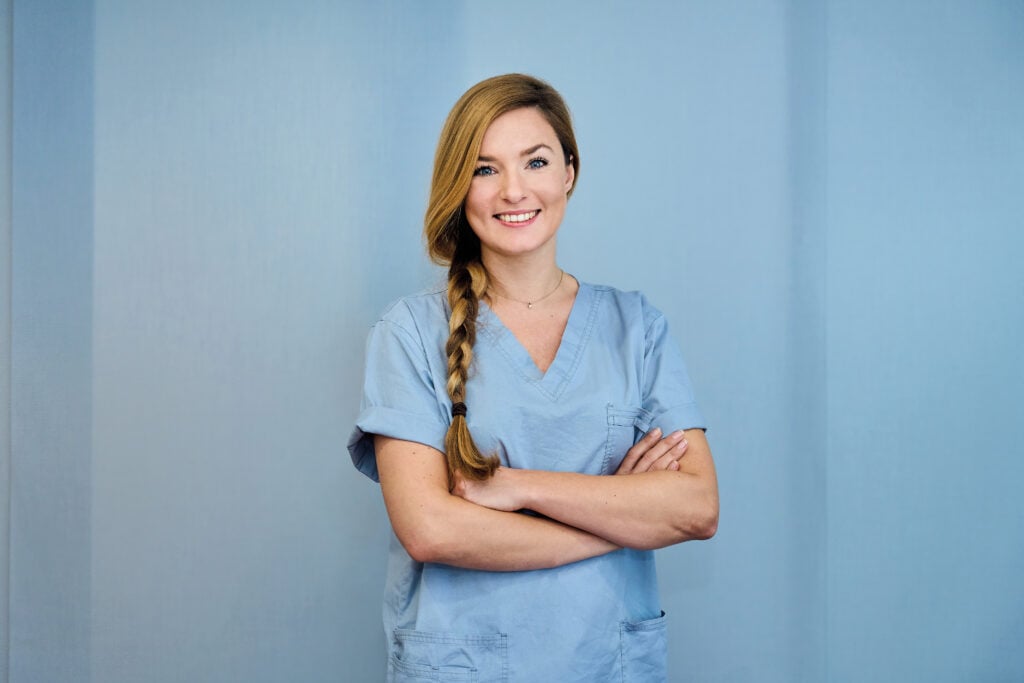 Dr. Talia Bosselmann-Schwarz, our expert in reconstructive, plastic, and aesthetic breast surgery, is now offering a special breast consultation every Tuesday and by appointment.